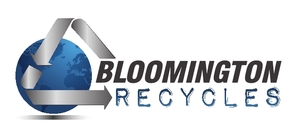 Bloomington offers single-stream, curbside recycling to residents in single family and duplex homes. You may sign up for the recycling program by at the City of Bloomington website. Materials accepted in this program and examples are listed below. All materials should be cleaned and boxes flattened.
In addition, Bloomington residents may use drop-off boxes offered by the Town of Normal for recycling at various convenient locations around town open 24 hours a day, 7 days a week.
Bloomington-Normal Residential Recycling Illustrated Flyer
Containers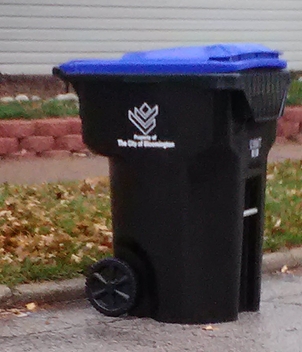 *Note: All containers should be emptied of liquid before recycling.
Plastic bottles: #1,2,3,4,5 & 7 plastic containers include: milk, water, pop, detergent, shampoo, salad dressing bottles, etc. Lids may be included; keep on the container after cleaning.
Grocery containers: #4 & 5 plastic resin such as margarine tubs, frozen dessert cups, six and twelve pack rings, yogurt cups, and narrow neck syrup and ketchup bottles. Lids may be included; keep on the container after cleaning.
Glass bottles and jars: clear, brown, green, or blue
Aluminum cans: also clean disposable trays, pans, and foil
Steel cans: includes empty aerosol cans, beer bottle caps
Other: plastic buckets such as kitty litter containers (5 gallon size maximum)
Paper Products
Newspaper: newsprint and all inserts
Paperboard: cereal boxes, food boxes, frozen food boxes, beverage boxes, tissue boxes, and other such containers
Corrugated cardboard: cut down to newspaper size only
Magazines
Junk mail/envelopes
Telephone books
Computer/school paper
Gift wrap
Paper egg cartons
Books: paperbacks, or hardcover books with the hard covers removed
Not Acceptable
Expanded foam or #6 plastic polystyrene including Styrofoam, plastic egg cartons, or clear plastic deli/bakery type containers
Motor oil

*

/insecticide/herbicide/hazardous chemical containers
Plastic film (no plastic bags, sleves, sheets, tarps or wrap). Plastic bags should be returned to grocery or department stores
Windows, mirrors, drinking glasses, dishes, soild towels or napkins
Gable-top containers
Plastic six-pack rings